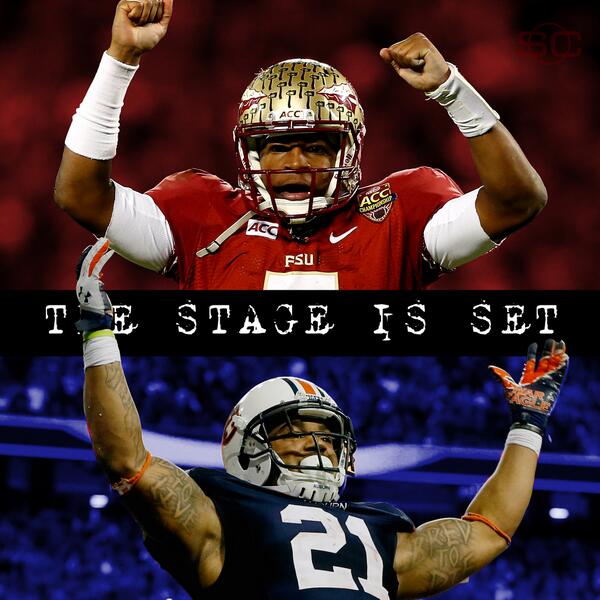 via SportCenter Twitter Page
Here we are. Four days away from the BCS National Championship, where Auburn heads off against top ranked Florida State. Heisman winner, Jameis Winston, and the Semionles are one game away from a perfect records and their second BCS Championship. Although Jameis has been played spectacular this year, it is the defense that will win or lose the BCS National Championship game. Throughout the 2013-2014 year, opponent QB play against FSU has been significantly low. Also opponent rushing against FSU has been unsuccessful. Only two teams this last year have challenged FSU on the ground, Boston College and NC State, both teams coming up short due to lack of positive QB play. Here are a few spreadsheets breaking down FSU's Schedule, QB Play Against FSU, and Rushing Against FSU.
FSU Tendencies
FSU runs the ball 52% of the time. May not seem that way, but they do. Devonta Freeman, Karlos Williams, and James Wilder Jr. have all had plenty of carries this year spearheaded by Freeman. Freeman had 13 Touchdowns and 943 yards on the year. 3 times Freeman rushed for over 100+ yards and also ran for 91 against Duke in the Conference championship.
Winston is accurate, big reason, big reliable receivers. Winston on the year in 237 for 349 with a 67.9 completion rate. 38 Touchdowns to 10 interceptions and 5 fumbles. Winston has thrown for 3,820 yards. Again, Winston's receivers have been a big reason why he is so successful. 4 big targets equals big help for the Freshman Heisman winner. Rashad Greene, Kelvin Benjamin, Kenny Shaw, and TE Nick O'Leary. All with over 550 yards and 6 receiving Touchdowns on the year. ALL over 6' tall with Benjamin at 6'5" and 238 pounds.
56% on 3rd Down Conversions. Winston is at his best on 3rd and long. Game plan and big targets make it easy for one of those 4 big guys to get open.
FSU's Defense makes plays all over the field. Florida State's Defense has come up with a total of 34 takeaways. 25 interceptions and 9 fumbles recovered.


Key Games
Boston College- This was a huge game for FSU, being the last game they trailed in. Boston College was up 17-3 before FSU pulled it together and scored 21 consecutive points to blow past BC. Boston College turned the ball over twice, one being a pick six that put the game away for FSU. Andre Williams ran for 149 yards on 28 carries and was one of the only teams that had any success against this stingy Seminole defense.

Clemson- Probably the trademark win for Jameis Winston. Clemson, in my opinion was overrated, ranked number 3 in the nation and got throttled at home against FSU. Again turnovers plagued the opposing team. Tajh Boyd threw two interceptions and fumbled the ball in route to a 37 point loss.

Miami (FL)- What started out as a game with huge hype, FSU vs Miami went south right before halftime. Miami answered FSU for most of the first half only down 7 going into the second. But the big blow wasn't from FSU. It came when Miami star running back Duke Johnson got hurt late in the third quarter. Johnson also had success against the FSU defense. He totaled 97 yards on 23 carries in before he was injured, the game slipped away. Miami threw 2 interceptions and failed to score a single point in the second half.

Florida- Although Florida had a miserable year, Jameis Winston had not played an SEC defense until Rivalry Week where FSU rolled in to The Swamp. Florida held FSU to their lowest point total all season at 37 and FSU only scored on a field goal late in the first quarter. Winston also threw a pick early in this game. Florida was a huge underdog and rightfully so starting their 3rd string QB, Florida also had the worst offense in the SEC. Florida also gave up in the third quarter. If UF would have stuck with it, I think Florida's secondary would have held FSU to even fewer points.
Where FSU is Most Vulnerable
Believe it or not, there are weaknesses in this FSU team. First off, teams that could run the ball, stayed in the game. Boston College and Miami both competed against the top team in the land early on the ground. Miami had 97 yards from Duke Johnson before he got hurt... in the first half. Result? 7 point game. Boston College gave the ball to Andre Williams who ran for 149, most early, and BC had a 17-3 lead. FSU hasn't played a running team in the REALM of Auburn and if FSU can't stay fresh, which Gus Malzahn is looking to exploit, it will be a really long night for FSU. Also FSU hasn't had to defend against a QB with the capabilities as Nick Marshall.
Key Factors to Watch
Big Receivers Against Smaller Corners. The big key for Winston will be hitting the bigger receivers early and often. Auburn's front line is quick and the rotation keeps the starters fresh all game. If those receivers will make catches stands on FSU's O-Line.
Stopping Nick Marshall. We know Tre Mason will have his share of yards. But as you saw in the spreadsheet above, the denominator in bad play from opposing teams is QB play. Turnover after turnover have lead teams to falter at Florida State's feet. If FSU wins the game it wont be because of Jameis Winston, it will be because Nick Marshall will have to have turnovers.
Strength of Schedule. FSU has not had the opportunity to play top quality opponents. FSU only played 3 teams with 8 or more wins. With the Seminoles routing inferior opponents and Auburn slugging it out with the better opponents, we will have to see how Florida State handles adversity and a willingness to not quit or stop in Auburn.
The 4th Quarter. Like Missouri, FSU will hit Auburn in the mouth. But as we have seen in the past, Missouri and Alabama, Auburn never gave up and got key stops late in the 4th Quarter. Whichever team wins the 4th Quarter will hold up the Crystal Ball in Pasadena.
Well here we are. Who will be the last BCS Champion? A Team of Destiny? or the Heisman winner?
Be sure to follow me on Twitter at @austin_preiss19 for more of the BCS National Championship Game, Auburn, and SEC. WAR EAGLE!