With the last couple of weeks left, in what we know it as the BCS standings, the Auburn Tigers are ranked 4 after a very disappointing season in which the Tigers only won a total of 3 games. Since the beginning of the BCS there were always those teams that have been on the outside looking in. Auburn in '04, Boise State a couple of times, and in this very last year could be yet another. Ohio State has owned and dominated in the last two years. Problem is, they haven't played a schedule that demonstrates they should stay above a 1 loss Auburn or Missouri. Let's say that Auburn does beat Alabama. Auburn wins against Mizzou or South Carolina. Would the voters keep a team who has won against 3 top ten teams out? Under an Ohio State who hasn't played a top team all year? We shall see in the coming weeks.
Malzahn's Present and Future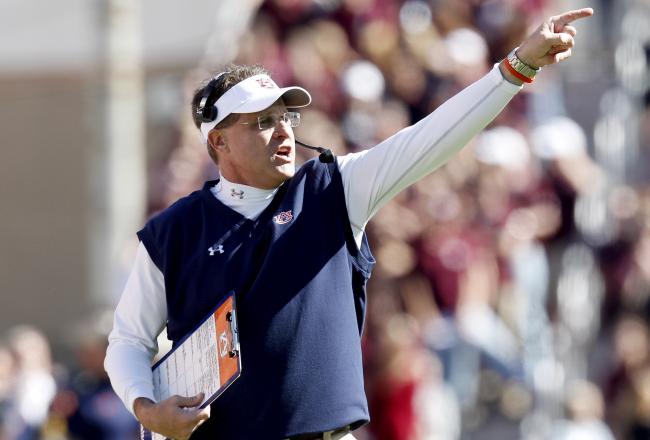 Thomas B. Shea/Getty Images
Not even the most optimistic Auburn fan would have predicted that Auburn would be going into the Iron Bowl 10-1, 6-1 in SEC play. Not even myself. I am and optimistic realist and would have been happy with an 8 win season. Anything better than last year. Gus Malzahn believed it would happen. He also gave hope to all the players and staff that it was possible to compete and have Auburn's name thrown around as an Elite SEC team again. Another name being thrown around is Malzahn. A semifinalist for the Coach of the Year award and well deserving. Him and his coaching staff have instilled discipline and a fire inside the locker room that has transcended on to the playing field. The Iron Bowl on November 30th could be a staple win and seal up those Coach of the Year talks and place an even bigger question up in the air... Pasadena?
As the end of a long, much aggravating system comes to an end a system arises at Auburn once again. One that has prospered and one that may put Auburn back into the prestigious powerhouse that it has been in recent years.
Be sure to follow me @austin_preiss19 on Twitter for Auburn, SEC and much more.