The Auburn Tigers have gone through some drastic changes in only a year under Gus Malzhan that has him as the leading candidate for the Coach of the Year Award. Thank heavens 2012 has passed rather quickly. Truth is, if Auburn has any success last year, do they fire Gene Chizik? As miserable as last year was I would take that hurt to be where the University is today. AU new day is upon us and players, coaches, and fans alike have put the past behind us and are 1 win away from being SEC West Champions.
Here are a few stats and grades that can express just how big of a turnaround has taken place:
2012
September 1, 2012; Atlanta, GA, USA; Auburn Tigers quarterback Kiehl Frazier (10) fumbles the ball after being hit by Clemson Tigers linebacker Marcus Bullard (57) in the second half at the Georgia Dome. Clemson won 26-19. Mandatory Credit: Daniel Shirey-US PRESSWIRE
Offense- Points a Game- 18, Offense Grade: D
Passing- Last year the QB play was abysmal. Frazier played out of his element under the new offensive coordinator and it showed just how unprepared he was to play the position. Clint Moseley also was not up to speed with how the offense ran and Jonathan Wallace could have had better stats if he would have been implemented sooner than he was. Passing Grade: F
Rushing- One of the only bright spot about last years team was Tre Mason. He broke the 1,000 yard mark in the Alabama game, but he fought all year and demanded the ball more after each game. Kudos and a ton of respect for how he played last year. Rushing Grade: C
O Line- Only a few words are needed for last years O Line I'll keep it short and sweet. BAD. O Line Grade: D
Defense- Allowed Points a Game- 28, Defense Grade: F
LBs, Secondary, and D Line- I almost turned away from the T.V when we came up on defense. My wife and I attended 3 games last year; ULM, LSU, and Arkansas. By the time we played Arkansas destroyed us, I had all but completely lost hope in our defense. Entire Defense: F
Special Teams- The only other bright spot of the 2012 season was Special Teams. Cody Parkey was automatic as usual and Steven Clarke had a few mishaps, but he was solid and played a key role for the Tigers. Special Teams Grade: A
2013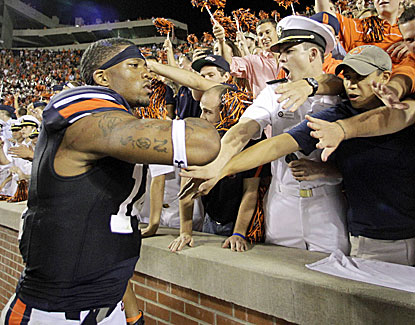 Nick Marshall celebrates with the Auburn fans after his two-touchdown game in the Tigers' victory over Ole Miss. (USATSI)
Offense- Points a Game- 39, Offense Grade: A-
Passing- Nick Marshall has been an absolute game changer for Auburn this year. He has had experience in the SEC as a DB for Georgia and played a whole year on the JUCO side of football and excelled. His dynamic playmaking ability and cannon for an arm have made teams play true to their position. His accuracy is getting better each week, but a little improvement and the Tigers will be a threat through the air as much as they are on the ground. Marshall has 9 passing TDs through 11 games while Auburn as a team last year only totaled 8 between 4 different players. Jeremy Johnson has been magnificent when he touches the ball. A true passer, but has decisive speed when he needs it. Passing Grade: B
Rushing- Auburn is SECOND in the Nation in Rushing Yards only behind Army, which rarely passes the ball. Tre Mason, Corey Grant, and Cameron Artis-Payne all share the ball and contribute greatly when each touch the ball. You can't leave out Nick Marshall from this category either. Mason has evolved as the go to back, even though all play and play exceptional. Mason also leads the SEC in multiple categories and has stacked up some really impressive stats for anyone's eye's. Rushing Grade: A+
O Line- The Offensive Line has been a key factor in the success. Aiding Auburn's Rushing attack, the Line also gives Marshall ample amount of time to pass or make a play. The O Line is also a main reason why Auburn is 10-1 to this point. O Line Grade: A+
Defense- Allowed Points a Game- 22, Defense Grade: B
LBs, Secondary, and D Line- Keeping this short and sweet again with the Defense, but Auburn's freshmen have stepped up all year long and are filling out their expectations. The Defensive Line has been able to make plays all year long and the LBs and Secondary have forced turnovers and made plays that have won games on multiple occasions. LBs Grade: B-, D Line Grade: A, Secondary: B+
Special Teams- The Special Teams are the only consistent part of the 2012/ 2013 seasons. Except this year, the Tigers have added more of a threats in the Return Game. Chris Davis has been electric since his return and has yet to disappoint when he gets a head start. Special Teams Grade: A+
Well there you have it. As you can see just in this small review, Auburn has made leaps and bounds in only one year. Much credit is to Malzahn and his staff, but these players are simply fighting and playing harder than every game except the LSU game last year. Auburn has a chance to make even more history this weekend by knocking off the top ranked Tide in Jordan-Hare. Can the Tigers somehow pull out another Miracle in Jordan-Hare? We will see this coming Saturday.
Be sure to follow me on Twitter @austin_preiss19. Leave questions or comments on any Topic that you would like me write about in the coming weeks.