Here we are days into the last of the BCS Bowl Season. With a wild game in the first game of the Bowl Season, Washington State and Colorado State didn't disappoint. Today is the 24th of December and today's game pits off two teams who have had their share of success in the recent past. Boise State hasn't had a losing season with now former head coach, Chris Peterson. With him not on the sideline, how will the Broncos play? And Oregon State, came into this season off of a 9-4 season, with this year looking very promising. After dropping the first game, the Beavers won 6 straight before hitting a brick wall. Since Oregon State was 6-1, they have dropped their last 5. It Started with Stanford. An extremely talented team that had another great year and playing in The Rose Bowl. Then faced a surging USC team that was magnificent under interim coach Ed Orgeron, who also just dominated in their bowl game against the 20th ranked Fresno State. The list goes on. The remaining teams are all in bowl games; Arizona State, Washington, and Oregon. Here are a few team rankings (according to teamrankings.com) that breakdown how each team has performed throughout the year:
Photo Courtesy of Josh Rasmussen
Boise State: Oregon State:
Passing Offense- 29th Passing Offense- 3rd
Passing Defense- 91st Passing Defense- 32nd
Rushing Offense- 28th Rushing Offense- 121st
Rushing Defense- 61st Rushing Defense- 87nd
Scoring Offense- 19th Scoring Offense- 29th
Scoring Defense- 38th Scoring Defense- 81st
Total Offense- 21st Total Offense- 26th
Total Defense- 69th Total Defense- 64th
Key Notes
Oregon State averages 378 pass yards a game.
Oregon State middle of the pack in penalties a game with 6.4 Penalties/Game and Boise State is one of the least penalized teams in the country with 4.1 a game.
Another key to watch is RedZone Defense- Oregon State is 120th while Boise State is 39th.
Oregon State 42 - Boise State 28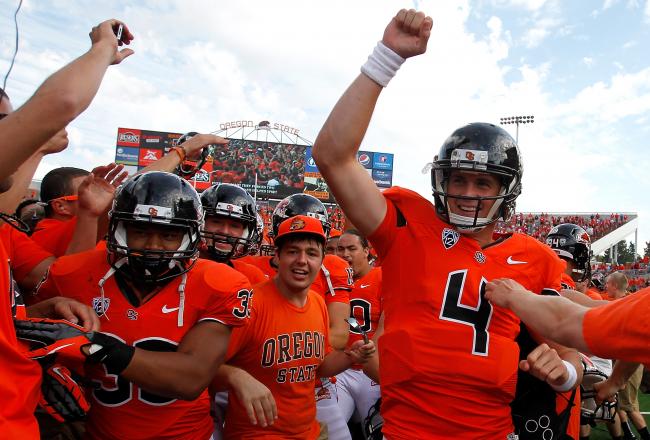 Jonathan Ferrey/Getty Images
Be sure to follow me on Twitter at @austin_preiss19 for more during this Bowl Season, SEC, Auburn, and much more. WAR EAGLE!